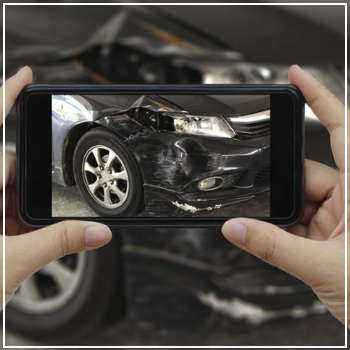 After an auto accident, you go through the motions of contacting your insurance carrier, waiting for a claims adjuster to assess the damage, then waiting even longer for the auto body shop to complete the repairs. What if you could eliminate the middle man and submit your photos directly to the insurance carrier, who then examines the damage and follows up with an estimate?
While on this surface, this scenario seems extremely convenient and cuts down on wait time, Connecticut's Auto Body Association recently explained to FOX 61 why this system is flawed and could even make you unsafe on the road. What should you consider before making a photo insurance claim?
1. How Much Damage Did Your Car Really Sustain?
Insurance carriers claim their new photo systems speed up the claims process, but they often don't account for unseen damage. As the Auto Body Association points out, drivers only submit photos of superficial damage in many instances. As a result, any interior issues – dented panels, damaged electronics and frame and suspension distortion – go unnoticed. Further, because your car has more than a few scrapes and dents, hitting the road in your damaged vehicle places you in a more dangerous situation.
2. Higher Repair Costs
By the time an auto body technician assesses your vehicle, the repair costs can skyrocket, increasing the insurance company's initial estimate as much as five times. However, the outcome can vary by carrier. Some say they'll only pay the initial estimate and leave you with the bill, while others – like AllState – work directly with the auto body shop to review any supplemental damage and adjust the claim.
3. It's Ideal for Minor Issues
The Auto Body Association points out that photo claims tend to be more beneficial when the car has very minor damage – for instance, a light for the high beam, blinker or brake has gone out. On the other hand, filing a claim for these types of issues can often be unnecessary.
4. It's Becoming More of a Standard Service
Carriers like Essurance, AllState and Metlife have been pushing this service and, if yours offers it, there's a chance someone will reach out to tell you about eligibility. Even with this option, insurance adjusters are not out of the picture completely. For a more thorough estimate after a collision, you may want to consider taking the old-fashioned route.
5. Photos Are Helpful If Your Claim Goes to Court
In a typical post-accident scenario, you reach out to your carrier, show photos or work with an adjuster and have repairs performed. Yet, the possibility exists that a carrier might not cover all expenses – especially if you sustained bodily injuries. As such, it's always a good idea to take photos at the scene with a cell phone or digital camera, with the following in mind:
Capture the scene from multiple angles and distances, so it's clear how the accident happened.
Take into account and photograph any weather conditions, especially snow and slick, wet or icy roads.
Don't just take a photo of your car; show the damage of all vehicles and property involved.
Illustrate the scene, taking photos of any skid marks, traffic lights or stop signs.
After an accident, have DaSilva's Auto Body assess your car first and then perform the necessary repairs. To make an appointment or to learn more about our services, give us a call today.