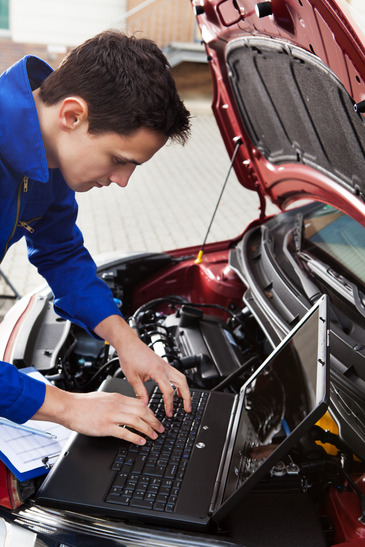 Has the check engine light come on?
With today's auto technology, this seemingly-ambiguous sign indicates that something's clearly wrong. But what? Instead of guessing and making the repairs yourself, give your car the care it requires through DaSilva's Auto Body.
Our experts, equipped with years of skill, experience and knowledge, accurately diagnose a car or truck when this happens. After this initial estimate, our shop follows up with excellent auto repair services and customer service. We provide some of the business' best diagnosticians, who work to quickly determine what's going on with your car and strive to get you back on the road as soon as possible.
What the Signal Indicates
Computers control nearly all modern cars – those built from 1996 to the present – and monitor all major operating systems, the engine and transmission in the process, with the goal of providing the most efficient performance with the lowest emissions. Any light that comes on signals a car's formulation and functionality do not fall within the acceptable range.
As a result, the check engine light, coupled with poor performance and stalling, can indicate any problem from loose parts to increased emissions to the necessity for internal engine repair. As many of these factors aren't detectable to the average driver, our diagnostics provide the following:
State-of-the-art equipment to determine all necessary repairs
Scan of the vehicle's onboard computer to identify why the light came on
Check for any of the manufacturer's service bulletins concerning regular maintenance and recalls
A visual inspection and road test to verify the issue
Analysis of the battery and charging system, fuel pressure, spark compression, and individual parts
Documentation of the problem
Offer an estimate for all repairs.
What might be wrong?
While our experts can't provide a specific diagnosis until seeing the car, the check engine light may indicate one or more of the following:
Issues with the Mass Air Flow Sensor or circuit
The oxygen sensor identifies lean or too-rich conditions
A cylinder misfire
Knock sensor circuit malfunction
Inadequate exhaust gas circulation
Decrease in catalyst system efficiency
As well, the check engine light may mean your car simply requires regularly scheduled maintenance, may need an adjustment to the sensors or brake system, or could have a range of engine, computer, or electrical issues.
Because the range is so broad, doing diagnostics and repairs yourself or – worse – ignoring the issue may result in greater damage, more emissions, and lesser fuel economy. At the first sign, contact DaSilva's Auto Body for precise diagnostics, quality repairs, and excellent customer service.
Give our Naugatuck location a call to schedule an appointment!