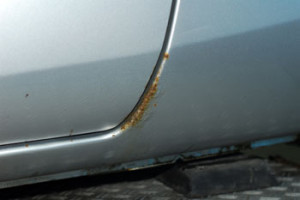 No matter the age of your vehicle, it's concerning to see patches of rust forming on the surface. Unfortunately, these spots are often just the tip of the iceberg. Rust can spread to unseen areas below the paint and, when left unchecked, can result in significant damage to your vehicle's frame and body panels.
---
Beyond the visual and structural aspects, rust may pose a safety hazard. For instance, rusty metal near the vehicle's gas tank could pierce the fuel line and cause leaks. Once you spot it on the undercarriage or exterior paint, it's essential to prevent rust from spreading. What can DaSilva's Auto Body do to help protect your car or truck from premature deterioration?
How Rust Forms
When outside particles become embedded in your car's finish, such as rain, bird droppings and tree sap, they start to eat away at the paint and expose the metal underneath. From here, a chemical reaction between iron and air leads to oxidation, a process that creates rust. Certain factors can influence or accelerate oxidation:
Warm temperatures, humidity and damp conditions
Living near bodies of water, particularly salt water
Living in snowy climates
Driving on newly salted roads but not washing the undercarriage
Unrepaired scratches and dents
Although your car may be more vulnerable when stored outside for most of the year, it may not stay rust-free in the garage. The only reliable solution for keeping the rust at bay tends to be regular washing and waxing.
While exposed metal might stimulate corrosion, it occurs in less visible areas once oxidation starts. When ignored, it progresses through the body, creating pits that eventually become holes. After a while, the rust is more than unsightly – it decreases your car's structural integrity and makes it a serious safety hazard.
Truck Rust Repair Job
Rust Removal Services
Once you notice a patch of rust, take your car or truck to DaSilva's Auto Body for an assessment of the damage. Our shop has specialized equipment to evaluate the degree of corrosion and our technicians will determine the best approach for your vehicle. Depending on the degree of damage, we may restore your vehicle back to its initial state or replace metal in certain areas.
Upon fully examining your car, we may recommend one of the following services.
Undercoating and Rustproofing
More of a preventative measure, this process involves adding a coating to protect your vehicle's metal against potential corrosion and oxidation. We examine your vehicle for any rust before sandblasting it away. Then, we apply the protective coating to all areas that could potentially be exposed to rock salt and moisture – a must for harsh New England winters.
Small Area Rust Repair
At this point, the rust damage is only superficial – it has not yet started to eat through the body or cause any holes. Our team will sand away the corroded areas and once the rust is cleared, we prime the exposed metal and repaint the area to match your car's or truck's original color.
Large Area Rust Repair
Once the rust damage goes below the surface, more involved bodywork may be needed – especially if it's on the undercarriage. Should the rust be this pervasive, our team cuts out or replaces the metal and fills in the area around it. Depending on the degree of damage, we may replace the full part. From this point, we'll sand, prime and paint the new surface to match your car's body.
When it comes to vehicle rust, you never know just how deep the damage goes. Work with DaSilva's Auto Body to have your car or truck assessed and repaired at the first sign.
To make an appointment, give our Naugatuck shop a call today!