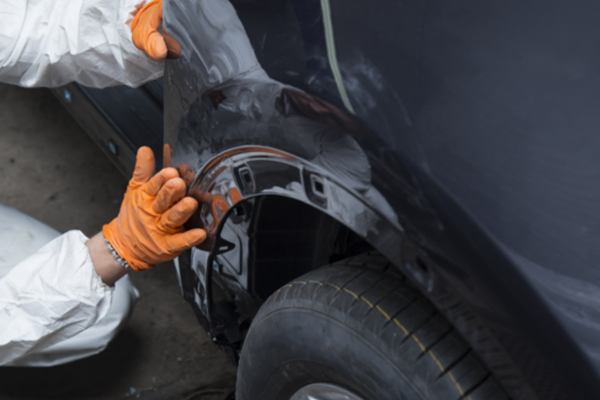 For decades, cars were made almost entirely of steel. In the 1970s, stricter emissions regulations required manufacturers to retool with aluminum parts, resulting in lighter-weight, more fuel efficient and impact-resistant vehicles.
Initially, aluminum components were used for luxury vehicles. These developments had a trickle-down effect and today, the majority of vehicles now feature aluminum parts.
---
Impact of Aluminum on Collision Repair
For auto body shops, the shift to aluminum has posed a few challenges in terms of collision repair. Techniques, tools and the repair environment all differ from previous steel-based methods.
Not every welder or auto body technician can repair aluminum. As a result, auto body shops providing original equipment manufacturer (OEM) parts must meet strict certification standards to repair vehicles with aluminum body parts.
DaSilva's Auto Body is a certified aluminum repair facility and uses OEM parts. Before you request an appointment, here's what you should know.
What's Different About Aluminum?
A lighter vehicle is more fuel efficient and generates fewer emissions. Steel can only go so far in terms of conserving weight and aluminum has transitioned into the preferred body material. It delivers strength superior to steel in collision tests, absorbs twice the energy during a crash and weighs up to 50 percent less than a similar mild steel structure.
Despite these benefits, aluminum reacts and behaves differently than steel, which can pose challenges for auto body repair:
Steel tends to recover its shape and has a degree of "memory" after experiencing a dent. By contrast, aluminum is more malleable and requires pulling with more specific tools.
Aluminum reacts differently to heat and too-high temperatures can alter its composition. For auto body repairs, these changes have modified welding techniques and require a different set of fasteners and adhesives.
Heat can soften damaged aluminum, so that it reforms once cooled. Yet too much heat can cause aluminum to disintegrate or shrink and melt connecting points. This technique and temperature regulation are integral to repairing rather than replacing body panels, but involve more intensive work.
Aluminum repair requires a different set of tools and work area not only to properly pull dents and make other changes but to avoid creating an unsafe, potentially hazardous environment. Considering these factors, technicians must first undergo multiple training courses to properly perform aluminum body repair.
What Defines a Certified Aluminum Repair Facility?
Vehicle owners should be aware that not every auto body shop is a certified aluminum repair facility. Staff members who have not received the proper training or are not using appropriate tools can cause significant damage to your vehicle. Understand the skills technicians need and the proper environment for making aluminum repairs.
Repairing Aluminum
Due to aluminum's flexibility, repairs require more specialized tools and welding techniques. Traditional steel repair can melt or shrink aluminum or cause damage to adjacent materials. Dents in aluminum also cannot be pushed out and traditional methods can result in additional small cracks that enlarge with time. As a result, repair jobs may take up to 40 percent longer to complete.
To be a certified aluminum repair facility, technicians receive Certified Collision Repair Facility (CCRF) training, which goes over aluminum's properties when exposed to heat and how to shape and mold the metal to remove dents and repair body panels.
In considering these requirements, shops may train all staff on aluminum repair or have dedicated technicians who handle aluminum parts. When it comes to repairing aluminum, certified shops:
Conduct body repairs understanding that aluminum needs to completely be reshaped. It will be heated before it's welded and formed, and technicians take into account any hardening that occurred from impact.
Understand that different welding wire is essential to repair aluminum and often varies based on manufacturer requirements.
Are equipped with the appropriate primers, adhesives, fasteners and sealants for repairing aluminum panels and parts.
Have technicians educated in corrosion prevention during repairs.
Use synergic pulse technology, which is required by most OEMs for aluminum welding. This service includes a complete set of synergic programs for brazing, welding and aluminum wire.
Repair Environment
Blending aluminum and steel together, via tools or work environment, can have catastrophic effects. Not separating the metals can result in extensive corrosion to aluminum parts and may even create a safety hazard. Specifically, dust generated from sawing or cutting aluminum can create an explosion.
In considering these factors, certified aluminum repair facilities:
Have separate sets of hand, electric and air tools. The same equipment used for repairing steel cannot be used with aluminum, as cross-contamination between metals can accelerate corrosion. DaSilva's Auto Body uses a MultiMig 522 dual-pulse power source with two types of torches for aluminum welding: A standard Mig torch and an Elektron push-pull torch with an up-down digital current adjusted at the fingertip area, a lighter weight for more control and a design ideal for feeding and welding aluminum wire. Inverter technology allows for precision electronic control of the power source, resulting in a better-quality weld.
Have dedicated paint booths for aluminum body panels and spot jobs. They are outfitted with sturdy, non-combustible walls that guard against cross-contamination.
Use an immersion wet mix dust extraction or pneumatic vacuum system for aluminum dust removal. Workers performing this task are required to wear full-body personal protective equipment (PPE) and a breathing system.
Follow specific preparation and cleanup procedures. These are designed to reduce dust and prevent explosions.
Provide continuing education in compliance with CCRF training. Workers are required to be recertified in aluminum repair.
Manufacturers
DaSilva's Auto Body can repair aluminum OEM components for the following vehicle manufacturers:
General Motors
Honda
Ford
Chrysler
Nissan
Hyundai
Kia
Dodge
Subaru
Volkswagen
Audi
Suzuki
Volvo
Lincoln
Range Rover
Porche
Cadillac
Toyota
As more vehicles are built with aluminum body parts, count on DaSilva's Auto Body for high-quality repair work. To learn more about our services or schedule an appointment, contact us today.