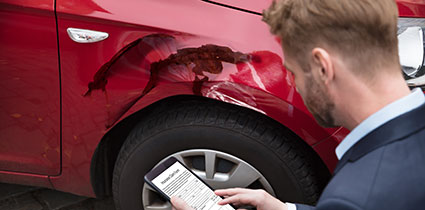 After an accident, we understand it can be challenging to work with insurance carriers. When it comes to your vehicle, no one should be cutting corners. Our technicians perform comprehensive collision repairs that prioritize your safety!
---
After an accident, you start a claim with your insurance company for the damage incurred. A claims adjuster may come out to assess the state of your vehicle, but you are also told to submit photos of the damage through their mobile claims app. Weeks later, you receive an estimate from the insurance company for the recommended repairs.
You think your vehicle is safe to drive again, until the next time you take your car into the local auto body shop. It's discovered that the damage from the accident was much worse than estimated and the insurance company paid out less than you deserved.

In an ideal situation, the auto body shop and insurance agent review the new findings from the diagnostics test and your carrier agrees to pay the higher cost. Your car is in optimal condition to hit the road again, keeping you safe. Yet, it's not always that simple.
Your insurance may call these new repairs unnecessary or try to suggest the auto body shop use aftermarket parts to lessen the cost. In the worst case scenario, the carrier won't accept the estimate and tells you the work must be done at one of their own body shops. Yet, every customer has the right to choose any repair shop they want.
Steering a customer to one of the insurance company's "preferred shops" is illegal!
---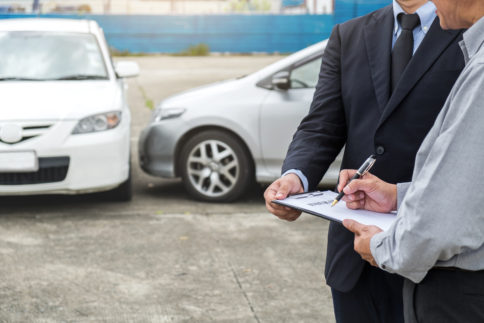 Common Insurance Disputes
Unfortunately, insurance carriers and autobody shops can disagree on more than the initial estimate.
Whether a damaged part should be repaired or replaced:
Insurance carriers often expect an auto body shop to repair a part, no matter the degree of damage.
The type of replacement parts to use: 
In certain cases, an insurance carrier refuses to pay for original equipment manufacturer (OEM) parts and will only pay the claim if the auto body shop uses aftermarket, reconditioned or salvaged parts.
The price to do certain types of work: 
The lighter synthetic materials used today often cost more than older metals and involve specialized, more labor-intensive work. For this reason, repair prices have gone up in relation to the training and hours required.
Who will be doing repairs: 
While an insurance carrier cannot reject a claim based on where you decide to get work done, they may cause delays by telling you to go to one of their in-network auto body shops.
The degree of damage: 
Especially with mobile apps used for claims, an insurance company may state the damage was fairly insignificant. Meanwhile, the auto body shop finds extensive internal damage requiring more costs in repairs. Caught in between, you're left with a check from your insurance carrier that barely makes a dent in these costs.
How Can DaSilva's Auto Body Help?
We don't want to leave you on the hook for repairs that cost more than expected. To help resolve your claim and get your car repaired, we:
Deal directly with the owner of an at-fault vehicle (claimant) or the victim of an accident, contacting them for an estimate.
Assess the car for any hidden structural damage, which is a common occurrence with today's computer-based systems.
Communicate directly with your insurance carrier and use their online portals, so everything is easy to view and transparent on your end.
Work with nearby facilities to set you up with a rental car, depending on insurance coverage, damage assessment and the repair schedule.
Have strong relationships with local insurance agents, who offer access to multiple carriers, for a more pleasant, streamlined experience.
Do you have additional questions about repairs after an accident? Contact us to learn more.