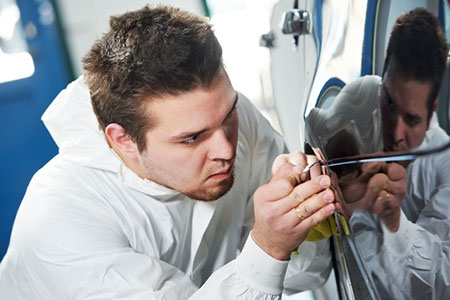 A technique that grew in popularity in the '80s and '90s, paintless dent repair, or simply PDR, provides one of the most efficient and affordable solutions for fixing minor damage and dings. Because owners wish to keep the paint job intact, especially if it's custom work, PDR pushes out the damage without requiring a new coat or finish. In response, the process reduces repair time and costs, all while providing you the professional, clean look your car deserves.
How Does It Work?
At DaSilva's Auto Body, our trained technicians apply pressure to the back side of the panel or repair by applying a bonding "tab" or similar device to the exterior. The minor dent goes back into shape without compromising the factory's distinctive color. No repainting or refinishing is needed, while the quick, affordable process aligns with our mission of providing convenient and dependable auto repairs to all clients.
PDR is an option for shallow dents on both steel and aluminum panels. Keep in mind, PDR may not be an option for all types of exterior damage. The paint's flexibility and how much the metal has been stretched both play a role. If you're uncertain, have us check out your car.
Get your car looking like new in no time at all! Give our Naugatuck, CT shop a call to schedule an appointment.