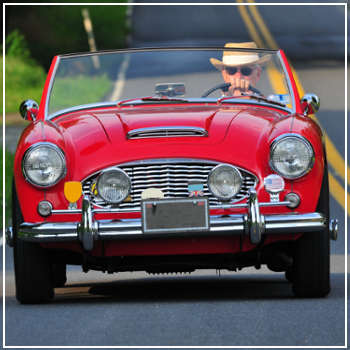 For all the auto gearheads out there, it's a dream to restore an older car. This is a relative term and with all the models you could purchase, there's a difference between a vehicle that is simply "old" and cars that are classified as antique, classic or vintage.
The General Guidelines
Between the state and various organizations, no one has reached a true consensus between these three. However, the general qualifications tend to be:
Classic: Any vehicle that's at least 20 years old.
Antique: The car must be at least 45 years old.
Vintage: Any vehicle built between 1919 and 1930.
Within these parameters, how well you restore your car, the parts used, your insurance carrier's definition and the state DMV's classification can further complicate things.
State DMV
In several states, if a car was manufactured after 1922 and is at least 25 years old, the state DMV automatically considers it a historical vehicle. Outside of this classification, a car manufactured before 1965 and featuring a 16-cylinder or larger engine is considered a Horseless Carriage. To earn either distinction, the car must not be modified and cannot be a replica, no matter how authentic.
The state may further consider a car older than 45 years an "antique," thus it requires a special license plate. These cars also must stay as close to the original design as possible, even down to the parts.
Keep in mind that specific timelines vary from state to state. As you purchase and restore your car, make sure you get a copy of the applicable regulations and have it adequately insured with a classic car policy, rather than standard personal coverage.
Insurance
Your typical auto carrier considers anything from 1900 to 1979 an antique or classic car. If it was made in 1980 or after and is not a modern vehicle, carriers classify it as a collector car. While both policies have distinctive features, realize that coverage varies from your typical personal policy. Specifically, your carrier may restrict:
If and where you can drive your car
How many miles per year you can put on it
If you take it to car shows
Organizations
By contrast, the Classic Car Club of America has even stricter definitions. To truly be a classic car, your vehicle:
Must have been manufactured between 1915 and 1948.
Needs to meet high-level design, engineering and workmanship standards.
Must be fully restored and running.
Cannot have modern modifications, such as power brakes.
The Antique Car Club has similar standards in terms of features and restoration. However, the dates are less restrictive and encompass anything 25 years and older.
What's Vintage?
In several regards, vintage cars overlap with the antique classification but differ in a few ways:
Vintage cars were typically built between 1919 and 1930.
Cars aren't disqualified if they display modifications or have had the original design altered.
Custom cars, hot rods and exotic cars typically fall within this classification but fail to meet the definition of an antique or classic car.
Are you in the process of restoring an older vehicle and need some help? Get DaSilva's Auto Body involved in your project. To learn how we can assist with your classic, antique or vintage car project, give us a call today.