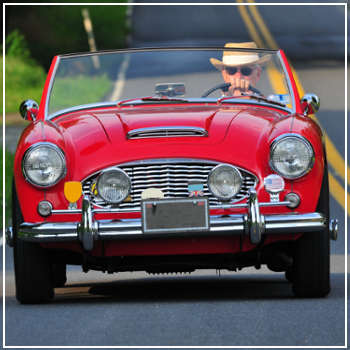 After you shop around, you find a sports car with the right look and feel you want. But before you hand over all that cash or sign your name to a loan, first consider all the common repair, maintenance and safety problems associated that can affect sports cars.
1. Finding Parts
Do you have a classic muscle car on your mind? Whether you're fixing it up yourself, having it professionally restored or plan to get it retrofitted for everyday use, one problem emerges: Replacement parts aren't always readily available. As you might not be able to find the basics at your local auto parts shop, you might have to specialty order them, join a local classic car club or go to car auctions to obtain certain vintage parts.
Also understand that most classic cars weren't designed like modern models. As such, if you plan to use it as an everyday vehicle, it should be upgraded to include standard safety features, such as seatbelts and airbags.
2. Uneven Safety Features
Let's say you've got your eye on a new or slightly used Porsche or Mercedes. Although these cars do come with the basics, manufacturers generally didn't design them to be as durable as standard models. With time, drivers find they're rather expensive to maintain.
Beyond this generalization, sport cars tend to be equipped with better active safety features – particularly, aspects that help you avoid a collision – but are short on passive ones like adjustable head restraints. Sports cars typically have one-piece, high-back bucket seats that don't always adjust. Although most drivers think they're compromising on comfort, adjustable head restraints reduce whiplash injuries and ideally can be moved forward and backward.
3. Not the Safest Designs
Although sports cars span a range of models, all tend to be smaller, narrower, lighter weight, lower to the ground and specifically built for speed. Unfortunately, this combination negatively impacts the car's design in other ways:
Reduced visibility, especially in the rear.
Larger blind spots.
Sitting lower to the ground presents issues in a collision, especially with a pickup truck or SUV. Specifically, a larger, taller vehicle may override a sports car's crumple zones, thus causing more damage to the vehicle and its passengers.
The lighter weight also means a sports car's more likely to see more damage in a collision.
Because they're equipped with more powerful engines, sports cars have greater skid risks on wet roads and a driver is more likely to lose control.
In winter, having a lower center of gravity makes it harder for a sports car to travel over snowdrifts and packed snow, even when it has all-wheel drive.
With convertibles in particular, side impacts pose greater danger to the vehicle's occupants. Although these cars do have side-impact airbags, reinforced doors and curtains, they have no pillars and no roof. As a result, occupants are directly exposed to any vehicle hitting from the sides and back in a collision.
4. Insufficient Safety Testing
The IIHS and NHTSA might not have tested the car you're about to purchase. Not every vehicle on the market gets crash-tested, especially those with low production volumes and sales. In fact, IIHS only started testing convertibles in 2007 – and those were only the market's bestsellers. As a result, buyers have to contend with uneven safety data and often don't know the downsides until a collision or engine malfunction happens.
Whether you're fixing up an older model or need maintenance done on an existing sports car, bring your vehicle to DaSilva's Auto Body. We'll assess it with gold-standard equipment and from there, provide recommendations concerning repairs and replacement parts. To schedule an appointment, contact our Naugatuck location today.