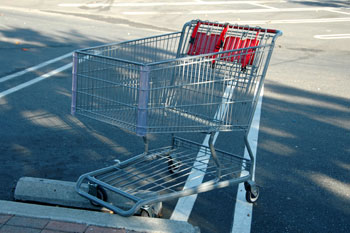 Many don't associate shopping carts with fender benders, but on a windy day in a sloped parking lot, one of these metal carriages can come at your vehicle at a rapid pace. Then, it hits your door or bumper, leaving a sizeable dent that requires repairs. And, if a chain of carts slides toward your vehicle, the damage greatly increases.
When this happens, what can you do?
Start a Claim
Was the cart in a store's lot? Legally, shopping cart damage falls under premises liability, as the store's responsible for keeping its grounds free of hazards – parking lot included.
When this occurs, it's best to either contact the police or the store, and fill out an accident report from there. Be aware that the store will likely dispute the claim, alleging that they weren't being negligent. However, as seen in a well-known case involving a shopping cart-related accident at a Sam's Club, the store could change its mind – particularly after they review their camera footage.
Nevertheless, responsibility's not always clear cut. Stores have an obligation to protect their customers' vehicles from carts, but only if that hazard could be anticipated and addressed quickly.
In any case, when your car's experienced a dent or scratch, begin a claim with your insurance provider.
Getting Work Done
In the meantime, you need to figure out how much damage was done to your car. As is the case with many fender benders, the superficial dent or scratch could just be the tip of the auto body ice berg; underneath, frame and structural damage may make your vehicle less safe to drive.
So, in working with your insurance company, go with your preferred auto body shop to have an estimate done on the work needed. Most likely, some kind of dent repair and paint job will improve the car's look and functionality.
If you find yourself in this situation, turn to DaSilva Auto Body for an accurate assessment and quality work. Contact our Naugatuck location to learn more.