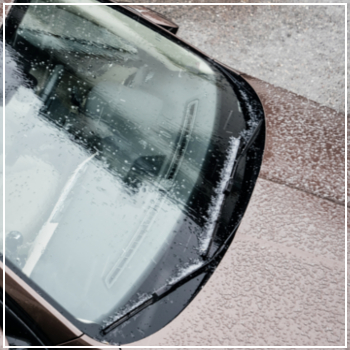 Depending on where you live, hailstorms can be an occasional or regular occurrence. No matter your region of the country, it's important to think about protecting your car from potential damage.
In general, the quicker you can get to shelter, the less likely your car is to experience damage. However, when and where you happen to be can significantly change this situation. If you're already at home, pulling the car into your garage or using a vehicle cover seems like a no-brainer.
However, when you're out on the road, you'll want to look for a covered parking area or large awning to shield your car. To anticipate and react to potential hailstone damage, consider the following points.
Pay Attention to the Weather
Check the weather on your phone, computer or TV forecast to see if hail is expected to hit. In the event you have to be out during a potential storm, look up where you may be able to find covered parking along your journey. Save the location for your GPS, so you don't waste any time driving around. Also sign up for weather alerts on your phone to receive real-time updates on the storm.
Use a Garage or Carport
Once you're back home, it will likely be easier to shield your car from hail damage. Depending on where you live, this may simply mean parking your car in the garage until the storm has passed.
Yet, not everyone has a garage. If your property is not equipped with this feature but you do have a driveway, consider setting up a fully enclosed carport that's anchored down against high wind gusts.
Car and Hail Covers
If you live in a city or apartment building, you likely won't have the space to assemble a carport. However, you can still protect against hail damage. As a baseline, look for a car cover made from thicker material that's unlikely to tear. The cover should fully protect your vehicle's surface and will need to be secured. Otherwise, you risk the material blowing off and exposing your car's panels and glass.
If you haven't purchased a car cover and a storm is headed your way, you can stay protected from hail damage with a few items from around the house:
Cover your car's glass and surface with blankets; go thicker for maximum protection.
Place your car's floor mats over the windshields to protect the glass from spidering or shattering.
Secure everything in place – duct tape is ideal, as it can be easily removed from your car afterwards.
Use a Public Parking Garage
If you're out searching for a parking garage, the best places tend to be malls, gas stations and anywhere with an underground facility. While your vehicle may be covered in these situations, avoid parking near any open walls and places where wind can pass through.
Also be prepared to wait it out during the storm. When the storm has calmed or passed, drive carefully and continue to listen to the weather report.
Shield and Angle Your Car
When a hailstorm arrives, the wind typically blows in one direction, where your car will experience the greatest amount of damage. Whether you're out driving or at home, finding a shield and angling your car away from the wind can lessen the number of repairs needed. This may entail parking behind or setting up a temporary barrier in that direction or arranging your car away from the wind.

To recover from hail damage, your insurance policy must include comprehensive coverage, otherwise your carrier won't reimburse repair costs. Reach out to DaSilva's Auto Body for paintless dent repair to remove indents, without stripping the surface. Contact our Naugatuck shop today!