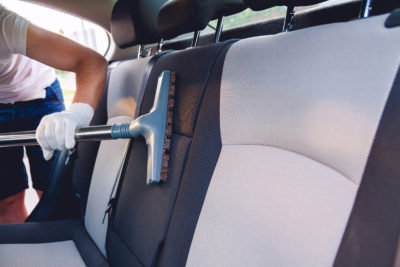 Are you planning to resell your vehicle? Whether your car is on lease or you simply want the interior to look brand new, time takes a toll on the upholstery. Drink and food stains, dirt and rips can mar the appearance and long term, may affect its resale value or violate your leasing agreement. DaSilva's detailing services include upholstery cleaning and repair to improve the interior's appearance and protect it from long-term wear and tear.
---
The Full Scope of Car Upholstery
Upholstery includes more than your car's fabric, further encompassing:
Carpeting: The floor and truck lining often experience the greatest amount of wear and tear, especially during the winter months. Although materials may be stain resistant, dirt accumulation and moisture eventually take their toll.
Seats: Why settle for seat covers? Upholstery repair addresses spills and regular UV exposure that leads to fading and cracking.
Headliners: The fabric lining your car's roof can start to stain. Age may cause this material to loosen, sag or take on a lumpy appearance.
Dashboards: Fabric may line the center console and dashboard area. Especially where food is concerned, stains are often inevitable.
Door Panels: While the doors might not be as noticeable as the seats, weather and spills can also take a toll on these areas.
Convertible Tops: Rips, stains and UV exposure happen. To keep your car's interior protected, repairs are in order.
What are some signs your car's upholstery needs to be cleaned or repaired?
Dry, stiff or cracked material are common signs of UV exposure, especially for leather and vinyl
You spot tears in the fabric
Visible stains on the seats, ceiling and doors that are too strong for regular cleaners
Your car has gone through several winters without salt, dirt and debris removal from the carpet
Car Upholstery Services
We take into account the specific materials that make up your car's interior. For instance, leather and vinyl have vastly different needs than fabric. Techniques for removing oil stains, scuffs, tears and spills are not uniform across all materials. Treating them as such could further damage your car's interior.
Regardless of the damage or material, the goal is to get your car's upholstery as close to new as possible. Our upholstery repairs entail:
Cleaning and conditioning the material to get rid of stains
Taking care of minor damage, including rips, burns and tears
Removing any dirt, debris and buildup from carpets and seats
Protecting it against potential UV damage
Reattaching the headliner and smoothing out any textural issues
Upholstery restoration, essential for restoring classic or antique cars with age-related damage
Don't accept stained upholstery as part of vehicle ownership. To clean up your car's interior, contact DaSilva's Auto Body to learn more about our range of detailing services.