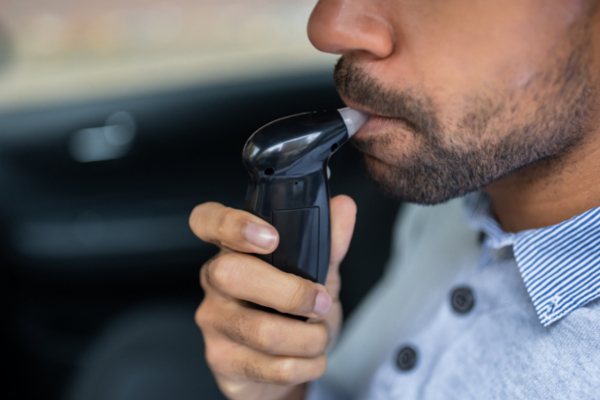 In many states, including Connecticut, the criminal penalty for driving under the influence includes the installation of an ignition interlock device (IID), before getting back on the road. IIDs are handheld breathalyzer devices that are installed into a car's ignition to measure the amount of alcohol on a driver's breath.
---
According to the Centers for Disease Control and Prevention (CDC), ignition interlock devices have helped reduce repeat drunk driving offenses by as much as 70 percent.
IIDs provide a barometer to indicate if you're safe to drive after having a drink or two. Many adults have requested these devices to keep themselves, as well as family members, safe on the road. DaSilva's Auto Body has partnered with Intoxalock® and LifeSafer to install their IIDs into vehicles. Learn more about how these devices work.
Ignition Interlock Devices and DUIs
A DUI offender may be required to install an IID before their license is reinstated after first offense, following a repeat offense or in response to a high BAC, depending on the state.
To start the vehicle, the user blows into the ignition interlock device, which uses a sensor to determine if the driver's blood alcohol content (BAC) is above or below the legal limit. If it's above, the device prevents the car from starting. Modern advancements have also added cameras and real-time reporting to IIDs.
Some IIDs will not allow the vehicle to start until the driver's BAC is below the legal limit. Others require a rolling test: The driver starts the vehicle, then submits a sample. In both cases, the IID records the driver's BAC and the information is available for the DMV and courts to use.
To effectively measure and record the results of a breath test, IIDs need to be calibrated anywhere from every 30 to 90 days, based on state laws, at an authorized service center like DaSilva's Auto Body.
Voluntary IIDs
Some drivers may want to reduce their own DUI risks by installing an IID. When an ignition interlock device is used voluntary for your own benefit, the results aren't monitored by the DMV or state courts.
Connecticut Law
In Connecticut, the law concerning ignition interlock devices specifies that drivers convicted of a DUI will receive a license suspension of 45 days. If the driver is under 21 years of age, the suspension lasts until the driver turns 21.
Once the driver's period of suspension has passed, they must install an IID and use it for one to three years, based on past DUI offenses. If the driver's BAC is .08 or above (.02 if the driver is under 21 years of age), the driver risks arrest.
Getting an Ignition Interlock Device Installed
Depending on which device you prefer to use, the process of obtaining an IID entails:
Filling out an Ignition Interlock Device Installation Application (P-246) form and mailing the $100 administrative fee and the $175 restoration fee to the Department of Motor Vehicles, Driver Services Division in Wethersfield, CT.
When your application is approved, the form will be mailed back with a second form approving the installation.
Reach out to LifeSafer or Intoxalock to schedule the installation with DaSilva's Auto Body. When you arrive at our shop, you will need to have both DMV forms.
As soon as the IID is installed, you'll need to return the P-246 form to the DMV. This process shows the installation is complete and allows the DMV to start monitoring the device.
Once your license is restored, the DMV will mail a final approval letter and restoration notice. At this stage, you must have a valid adult driver's license or Adult Learner's Permit.
In addition to following the DMV's processes, installing an IID requires a $50 to $150 fee. You'll also be expected to pay $50 to $150 monthly for monitoring, maintenance and leasing. Removing the device will result in another fee, which varies from $50 to $150, based on make and model.
Installation
Installing an ignition interlock device takes about one to two hours, depending on your vehicle's make and model. A technician will show you how to use it, supply extra mouthpieces and provide a certificate of installation.
Intoxalock
Intoxalock IID devices have straightforward, one-button operation. To use an Intoxalock device:
You need to press the button on the device before inserting your key into the ignition.
The LED screen will read "blow". Breathe into the mouthpiece to give a sample. Depending on the state, this will be a single, hard breath or a series of blow-inhale motions.
After providing your sample, the device's LED screen will show if you failed or passed the test.
If you delivered a passing sample, insert your key into the ignition and start the car.
Intoxalock IIDs use fuel cell technology for more precise results, clearly display them on a digital screen and should not be affected by hot and cold conditions. Unlike other IIDs, Intoxalock's devices do not require the user to "hum" along the mouthpiece before providing a sample. For individuals looking to install an IID, Intoxalock provides two options:
Legacy Devices collect data every time you provide a sample. The data is then sent to the DMV whenever the IID gets calibrated.
eLERT Devices provide this functionality, along with a camera to take photos and GPS capabilities. These features ensure the driver is taking the test, provide photographic evidence, and determine when and where a violation occurred.
LifeSafer
LifeSafer devices consist of a small handset that a driver blows into. The user will first need to blow deep, then hum on the mouthpiece. Next, the display provides clear instructions and results. To navigate around prompts, this IID includes intuitive operation and large, clearly-marked buttons.

Whether the state requires an ignition interlock device or you've chosen to install one, DaSilva's Auto Body can help. After filling out all paperwork, contact our Naugatuck shop to learn more.