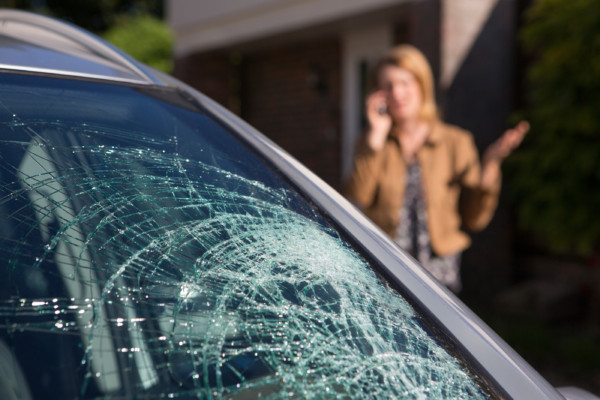 Accidents happen – so do hailstorms. Even something as mundane as a piece of gravel falling off a truck bed can damage your windshield. Most people who see a small pit or scratch simply ignore it. You may think, "it's not blocking my view, so how bad could it be?"
---
When it comes to your car windows, what starts as a small crack could grow bigger, creating a problem that may involve a full windshield replacement.
Understanding Your Car's Glass
Your car's windshield is a vital feature. For one, it's a key structural aspect of the vehicle. Secondly, it's essential for visibility; anything blocking or fogging it influences how you'll drive.
Your windshield is made out of laminated safety glass, a two-layer material bonded by laminated plastic. In the event of a crash, this construction cracks rather than shatters during impact. Yet, even though the windshield still looks intact, that crack poses several issues:
It Affects Your Car's Stability: Your windshield helps hold your roof in place which is crucial and can be life-saving if your vehicle flips over in an accident. While a crack seems strictly visual, it may influence how well the roof holds up during a collision or rollover accident.
It Affects the Glass' Strength: Another accident-related issue, that crack influences how well the glass performs in the event of a collision. As such, the glass has a greater chance of shattering when you're hit head-on or collide with a stationary object.
It Blocks Your View: You may think, "I can see around it," but if the crack blocks your view, there's a strong chance you won't be able to fully see what's in front of you. That could be an icy road, pothole or an animal crossing your path.
Cracks Don't Stay the Same: Several factors may turn a chip into a full-blown crack, from driving over a pothole to moisture to seeping through and freezing. Short term, you'll be facing a ticket. Long term, what could have been a minor repair requires full windshield replacement.
To Repair or Replace?
When it comes to auto glass, a crack or chip could be repaired if you address it early on. If the crack spreads or goes through both glass layers, you have no choice but to get your windshield replaced. How can you tell?
Look at the Size and Depth: If the blemish is small, perpendicular to the surface and doesn't go all the way through, injecting an epoxy or adhesive filler reduces the damage and keeps your windshield intact. However, if the chip has flaked a large piece of glass off, it's too big to fill in.
You Can't Fix a Long Crack: Why should you fill in a chip right away? Ignoring it may lead to a crack that compromises your windshield's structural integrity.
It Cuts Through the Glass: Does the chip go through the top level of lamination? At this point, water may rest in the crack and could do one of two things: Permanently fog up the membrane in between or freeze and cause the chip to expand. In the process, the water brings dirt in with it, sullying the membrane below.
Glass damage does not solely apply to your windshield – the side and rear windows, made out of tempered glass, can also shatter. It's imperative to have these replaced as soon as possible for the following reasons:
It creates an uncomfortable experience, exposing you and other passengers to the elements.
It exposes your car's interior to moisture and wind, resulting in additional damage.
Even when you use a temporary patch, a thief can still break into your car and drive off with your valuables.
Auto Glass Services
What do our auto glass repairs include at DaSilva's Auto Body?
Glass Repair
If the chip is small and shallow enough, our technicians may clean the damaged area and remove all debris and trapped air, before injecting resin into the blemish. Next, we use UV light to solidify the area. Although the area is not completely flawless, it improves the windshield's appearance, makes your car safer to drive on the road and strengthens the glass to prevent the damage from spreading.
With windshields, chips and cracks under 6 inches can often be repaired, assuming the damage is out of your field of vision and away from a camera or sensor.
Windshield Replacement
Not every chip or small crack can be filled. In these cases, it becomes necessary to have the front or rear windshield replaced to keep your car structurally intact.
In these instances, our team removes the damaged glass and all debris from inside the vehicle, before installing a new windshield. From here, we make sure that defrosting and all other features operate according to the manufacturer's specifications.
Glass Replacement
Whether you recently experienced a break-in or an accident, our team can replace the tempered glass making up the passenger windows, sunroof or moonroof, and back windshield.
Before removing the door panel to access the rest of the glass, we will first examine the damage.After cleaning up any debris and removing the old glass, we install a new glass panel and test it to ensure it functions according to the manufacturer's requirements. Depending on the degree of damage, the full job may entail replacing the door or side panels.
If you were recently in an accident, had loose debris damage your windshield or experienced a break-in, let our team repair or replace your car's glass. Contact us to schedule an appointment!