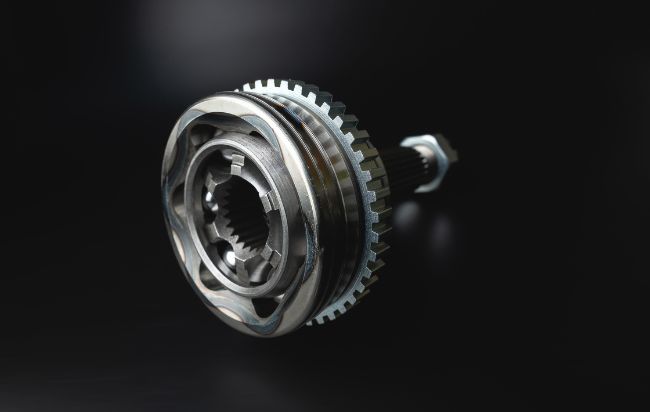 A group of bearings and axles, the constant-velocity or CV joints are crucial to your vehicle's operation, transferring power from the transaxle to the wheels so they turn. A CV boot protects them and the CV axles, reducing exposure to dirt and debris that can accelerate wear and tear.
---
Ultimately, CV joints lead to a smoother ride. Their operation gives the axles and wheels some flexibility, whether you're driving straight, going around a turn or handling an uneven surface. Damage to the CV joint can result in strange noises and sounds as you drive or a bouncy, uneven experience and repairs are recommended as soon as possible.
What Are CV Joints?
Once you start up the car, its wheels are constantly in motion until you stop. Part of the transmission system, the CV joints create a pathway for power to travel from the transaxle or differential to the CV axle and driveshaft, then eventually to the wheels. The joints consist of a cage and roller bearings designed to move smoothly and increase the car's range of motion in conjunction with the CV axles.
A key part on front and all-wheel drive vehicles, CV joints help deliver a regular stream of power that helps the vehicle travel. As this occurs, CV joints absorb any up-and-down and left-and-right motions, leading to an overall even experience as you drive over bumpy terrain or use the steering system.
CV joint configurations vary with vehicle type and are essential on both all-wheel and front-wheel drive vehicles. For rear-wheel drive vehicles, those with a rear suspension include two CV axles featuring driveshafts with CV joints. Meanwhile, all-wheel drive vehicles include four CV axles, each with a set of driveshafts and CV joints.
From damage due to wear and tear or corrosion, locking up or not functioning as expected, the CV joints no longer effectively transfer power to the wheels. This breakdown affects how your car moves, results in a rougher ride and can lead to CV axle failure.
The CV boot protects both the CV joints and axles, including blocking out dirt and grime and creating a barrier against sudden bumps in the road. Made of rubber, this part also experiences wear with time and can affect how the CV joints and axles function. As long as the boot remains solid and secure, CV joints are designed to last anywhere from 70,000 to 130,000 miles. Generally, a worn boot allows more moisture and dirt in and causes lubricant to leak out, increasing the joint's rate of failure.
Signs of a Damaged CV Joint
Whether through more sudden damage or an older CV boot, your car may have a worn or malfunctioning CV joint if you notice the following signs:
A clicking or popping sound as you accelerate or turn the wheel
Vibrations as your car is in motion
Grease coating the inside of your tires or wheels
A loud clunking or humming noise, especially as you accelerate
A squealing sound as you drive
Difficulty turning the vehicle
A burning smell
A broken, cracked or dislocated CV boot
Bouncing as you drive on a flat, paved road
Not all CV joints fail at the same time. Those on the outside experience the greatest amount of wear due to exposure to the road and action. Repairs typically involve this joint.
Repairing or Replacing the CV Joint
Regularly scheduled maintenance involves inspecting all drivetrain components, including the CV joints, axles and boots. Inspection of the steering and suspension systems further involves assessing these components for wear and damage. If you are concerned about your car's performance, the CV boot can be inspected from home for cracks and other damage.
As the boot often displays wear first, this part may be replaced alone to keep the existing sets of CV joints and axles going. Spotting grease around the wheels or tires indicates the joints and axles are not receiving sufficient lubrication and therefore have already experienced significant wear. In this instance, replacing the full axle, driveshaft and CV joint is recommended.
Has your car been making noises and riding unevenly as you turn or accelerate? If the CV boot shows signs of damage, bring your car into DaSilva's Auto Body for an assessment and repairs involving the CV joint and related components. To get started, contact our Naugatuck shop today.