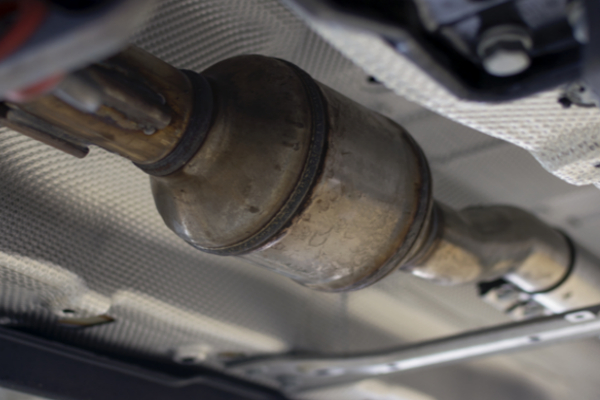 Catalytic converters are a key component of your car's
exhaust system
, preventing carbon monoxide from escaping the tail pipe into the air. Although a catalytic converter is designed to last the life of your car, damage and wear can contribute to failure, requiring repairs or a complete replacement.
---
About Catalytic Converters
In response to U.S. Environmental Protection Agency emissions regulations, cars from 1975 onward were the first to have catalytic converters to help control air pollution; older cars won't have this feature. Today, a car with a missing or malfunctioning catalytic converter won't pass a state emissions test and a driver is expected to have the system repaired in order to have a compliant vehicle.
To filter emissions, the catalytic converter features a honeycomb-shaped internal structure manufactured with catalyst particles, including palladium, platinum and rhodium. These particles heat hydrocarbons at high temperatures to break them down, burn toxic byproducts and remove harmful emissions before they pass through the rest of the car's exhaust system and enter the atmosphere. After this process, water, oxygen and carbon dioxide pass through the muffler.
Catalytic converter designs can vary. Although most vehicles have a single part, those with dual exhausts will be equipped with two catalytic converters. Between the exhaust manifold and the muffler, this part is welded directly to the exhaust pipe.
Along with filtering out hydrocarbons, the catalytic converter helps to reduce noise from the car's exhaust system. As a key sign the part needs repairs, the exhaust system will make a loud, rumbling noise any time the car is turned on.
Signs of a Catalytic Converter Issue
Ignoring a damaged or noisy catalytic converter restricts a car's exhaust flow, which can affect how the engine performs and may ultimately result in its failure.
Yet, the catalytic converter's performance also hinges on the engine. Typically, a higher-than-expected amount of fuel enters the catalytic converter as a result of damaged spark plugs, engine timing, a malfunctioning oxygen sensor or inaccurate air-to-fuel mixture. When this occurs, not all fuel gets burned during the combustion process and passes into the catalytic converter instead.
As this occurs, the catalytic converter – designed to reach temperatures of 800 degrees Fahrenheit – can overheat. Too-high temperatures can begin to melt or damage the internal honeycomb and prevent it from filtering out all harmful emissions.
As another possibility, damaged gaskets, seals and piston rings can cause oil or antifreeze to enter the exhaust system, where it eventually passes through the catalytic converter. Here, the substance ends up coating and clogging the part with carbon deposits.
As a result, exhaust cannot pass through the catalytic converter and, with pressure building up, may cause the engine to overheat or even start a fire. A catalytic converter may also be physically damaged by a pothole or debris on the road, causing its outer shell, support parts and internal honeycomb structure to crack. All factors impact how well the part filters exhaust.
In all situations, your catalytic converter may be experiencing issues if:
The check engine light comes on
The engine stalls or loses power
You notice a sulfur or rotten egg smell when you turn the car on
The car takes longer to accelerate
The engine feels like it's running rough
You hear a loud rattling sound
Your car's fuel economy suddenly decreases
Your car fails an emissions or smog test
Repairing the Catalytic Converter
If your catalytic converter shows any of the above signs and a diagnostic appointment indicates subpar performance, the following repairs may be made:
Cleaning the catalytic converter. Catalytic converter cleaner will be added to the fuel. This substance helps break up the clog impacting how the part filters.
Repairing issues related to its performance. Sometimes, the catalytic converter itself is not the problem. Instead, other parts could be affecting its performance, resulting in clogs or overheating. DaSilva's Auto Body may repair the oxygen sensor, spark plugs or any seals or gaskets causing excess fuel, oil or antifreeze to pass into the system.
Replacing the catalytic converter. Due to the metals involved, catalytic converter replacement can be expensive. A direct-fit catalytic converter, built for your vehicle's specific make and model, or a universal catalytic converter may be installed.
As a Certified Emissions Repair Facility, DaSilva's Auto Body may recommend catalytic converter repairs or replacement to help your vehicle pass the state emissions test.

If your car recently failed the emissions test, its fuel economy has dropped or you notice a loud noise from the exhaust system, bring it in for an assessment. To make an appointment, contact our Naugatuck shop today.