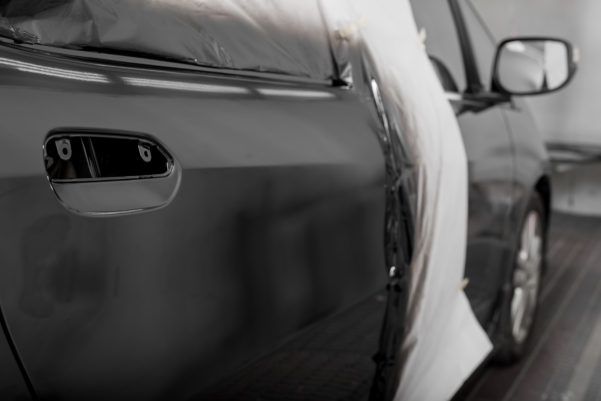 In the modern world, we expect things to be done quickly and efficiently – car detailing is no exception. While you don't want a rush job, you also don't want to be waiting days for work to be done. For a top-notch auto painting job done in less time, car spray booths have grown in popularity. These pressure-controlled, closed environments accommodate a wider range of vehicles and use variable air pressure for a cleaner finish, less waste and little downtime.
---
DaSilva's Auto Body has invested in this technology at our Naugatuck shop, where we can provide quality auto painting jobs in as little as a day! Here's what you should know.
How Spray Booths Work
Sometimes called automotive paint booths, these spray booths move air through an internal chamber and exhaust spray. The air grabs onto overflow and any harmful vapors, pushing out the debris. As a ventilation system ensures the booth maintains a consistent temperature and humidity level, a motor works to create an even, smooth paint job.
The result not only takes less time but is also safer for the environment and employees, who won't make contact with paint fumes.
The booth's precise level of control keeps hazardous materials confined to one area, greatly reducing fire and explosion risks. This creates a cleaner environment that ultimately yields a higher-quality paint job. Furthermore, the system operates with both solvent and eco-friendly, water-based coatings.
Spray booths control and remove fumes through a combination of air intake and extraction:
The exhaust fan creates negative air pressure inside the booth, pulling more air out than what's pulled in.
An air makeup unit goes against the negative air pressure by bringing in more to create positive air pressure. Once the booth's door opens, this pushes dust, dirt and other particles out of the interior, preventing them from marring the paint job.
By controlling the air flow, the booth is then able to remove any overspray, creating a cleaner, more professional finish.
Benefits of Spray Booths
Enclosed booths offer higher air quality: This results in a finer, smoother paint job. With traditional approaches and open booths, there's a much greater chance dirt and other particles will end up in the paint and give the car's surface an unintentionally textured look.
Better control improves refinishing: Showroom-quality work takes roughly a day or less to complete. Also, less rework is needed.
It's better for the environment: In addition to using paint that's free of volatile organic compounds, the enclosed spray booth keeps contaminants contained, preventing the release of harmful combustibles into the surrounding air.
Does your car need a new coat of paint? Explore our full range of auto painting and auto detailing services to schedule an appointment.