Most of us rely on our cars every single day to get us to and from work, to run errands and to safely transport children. Although it can become expensive over time, car maintenance is essential. By following the tips outlined below, you'll lessen the frequency of major auto body repairs and extend the life of your vehicle.
Don't Wait for a Warning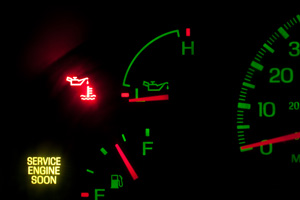 There are over 20 different symbols that can appear on your dashboard to indicate a problem. A few of the common ones are the check engine light, the tire pressure monitoring system and the oil change reminder. Seeing as there are so many more that you might not know about, it is suggested that you read your owner's manual and become acquainted. If you know that you're well past the 3,000-mile mark for an oil change or a tire feels flat, schedule an appointment at an auto body shop right away. A full diagnostics test can identify any other necessary repairs before they cause an issue.
Regularly Schedule Oil Changes
As mentioned above, oil changes are recommended every 3,000 miles. If ignored, old oil can cause major engine issues. Motor oil lubricates all of the working parts; without it, your engine could seize or stop moving. While this can be caused by a lack of oil, you may find yourself with a seized engine even if the filter is full, as dirt will build up, rendering the lubrication less effective. Oil changes are relatively cheap and also the optimal time to find out if there are any further issues that should be addressed.
Flush Out System
Similar to an oil change, a system flush removes all contaminants, like dirt and rust. It does not have to be done as often as an oil change; once a year is recommended. A coolant system flush will keep your car from overheating, while a transmission, fuel or brake system flush keeps those important parts functioning at their highest potential. Waiting for the light to come on your dashboard could cause long term damage to your vehicle.
Protect the Interior
If your seats are leather, prolonged sun exposure can cause the material to fade and crack from dryness. This can make the inside of your car appear much older than it actually is. The dashboard can also fade from excess sunlight, especially if it is black. The easiest way to protect the interior of your car is to try to park in the shade and use a window deflector on the front and side windows. Even if your car is getting older, it doesn't have to look even more aged due to sun damage.
Wash Exterior and Interior
This is the easiest (and cheapest) way to care for your vehicle. Washing your car does more than remove unwanted dirt and pollen. If left untreated, these contaminants can build up over time, causing premature rust. Whether you choose to get an unlimited pass at the carwash or wash the car yourself, the outside should be protected. The same goes for the interior; dirt is dragged in every day, soaking into the carpets and upholstery. A professional cleaning or run-through with your own handheld vacuum will keep the inside looking new.
At DaSilva's Auto Body, we can assist you in prolonging the life of your vehicle. We can change your oil, service the engine, detail the interior and exterior – you name it! Call us or stop by our Naugatuck location today to learn more about our extensive service offerings.