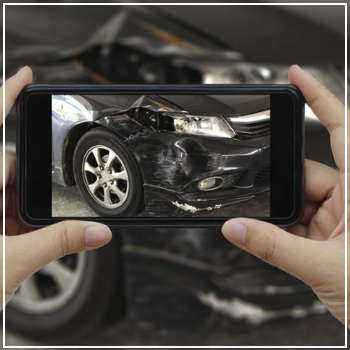 The commercials make photo estimates seem so convenient. All you have to do is take pictures of the damage after an accident, send the photos to your insurance carrier and wait for a check to come in the mail. Yet, a recent Inside Edition report found that, based on auto body shop accounts, customers are getting the short end of the stick – and their safety might be compromised.
Details of the Report
The report showed that insurance carriers make their estimates solely based on the photos, without having an adjuster look at the damage – and the checks issued nearly always fell short. In some cases, the damage was 10 times the initial estimate! Then, the customer and auto body shop need to work to get the estimate adjusted.
Meanwhile, a customer, believing the damage to be far less than it actually is, ends up driving around in a car that should likely be off the road. In turn, a driver might even delay repairs and the ordeal ends up wasting more time and money.
As the report further points out, this approach may be an intentional way to cut costs. Specifically, the insurance carrier relies on the customer to cash the low-balled check and be done with the incident. The company is not expecting the customer to go to an auto body shop for a second opinion, but damage that goes unchecked could get worse with time. With this in mind, why should drivers stay away from photo estimates?
The Damage Is Beyond Your Scope
Simply put, you may not know what you're looking at. For instance, a car dent can be more than a superficial problem. More often than not, the damage goes far below the surface. What seems minor at a glance might affect the electrical systems, causing cameras and other sensors to perform poorly or give inaccurate readings. Also, even if your car isn't quite as wired, the impact likely affected areas you can't see. Unless you take apart the car, your photos will nearly always miss them.
Additionally, drivers look at the direct damage, not the repercussions that could result in unnoticed fluid leaks or rust. With time, these issues only get worse, negatively affecting your car's performance and ultimately making it unsafe to drive. Just how deep could the damage go? If the impact compresses the car's center, its radiator, A/C condenser, engine or transmission may have been knocked out of place.
Your Car Is No Longer Safe
With photo estimates, the issue may look as simple as a bumper that needs to be repainted, but it could be much more serious. When the work seems minor you might delay getting it done, driving around in a vehicle you assume is moderately safe.
But that illusion only lasts so long. Eventually, your car breaks down or the damage leads to another accident. As such, you've got to take your car into the body shop, where the extent of the damage emerges. That small fender-bender resulted in significantly more damage, yet going back to your insurance carrier might result in them shifting the blame onto you or denying your claim.
Big picture: Any time you get into an accident, no matter how seemingly minor, always have a professional look at your car in person to get an estimate for the repairs needed.
It Wastes Time and Money
Photo estimates make it seem like your claim will go smoothly. You think you'll be back on the road again in no time, but the process comes with more hiccups once you go in for repairs. As Inside Edition described:
You go to the auto body shop for repairs, but their assessment shows that far more work needs to be done.
You submit their estimate to the insurance company.
Your insurance carrier may resist as first, before relenting and accepting the adjustment. In the meantime, one of their adjusters may need to examine your vehicle.
Your car sits at the body shop until their estimate is approved.
In the meantime, you don't have a car. Assuming your policy has rental coverage, you can rent a vehicle. Depending on the terms of your policy, your carrier has to pay for this higher expense or could shift the cost to you.
When it comes to your car and your safety, never cut corners. Instead, have DaSilva's Auto Body assess and diagnose your car after an accident. To make an appointment, give our Naugatuck location a call today.