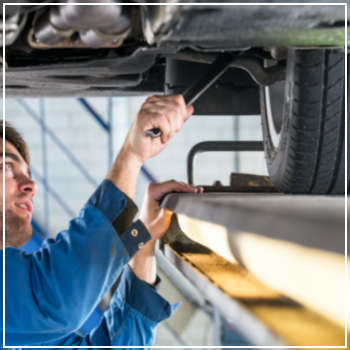 It's a common belief that original equipment manufacturer (OEM) parts are only used at dealer's auto body shops and independently owned shops use aftermarket parts. Many independent shop owners also want their customers to drive off in a safe vehicle with reliable parts. At DaSilva's Auto Body, we're proud to complete our repairs with OEM parts.
It's not wrong to use aftermarket parts, but it's important to understand the differences if given the option to choose. Depending on the intricacies of your vehicle, it may operate fine with either type of part. However, OEM is considered to be the superior option and therefore, is more expensive. Before you make a decision solely based on price, think about the following.
Differences Between OEM & Aftermarket
OEM parts are designed exactly like the ones in your vehicle. By contrast, aftermarket parts are designed similarly with slight variations. Construction and performance can vary greatly with aftermarket parts. On occasion, you can find a part that's on par with the OEM component but in short, aftermarket tends to be the lower quality choice.
Pros & Cons of OEM Parts
With the above points in mind, OEM parts are considered better than aftermarket in a number of ways:
The part comes in one type, making repairs easy and simple – there is no need to shop around.
Quality and performance are more consistent, as the OEM part is designed to function exactly like the one in your vehicle.
OEM parts are typically covered by the dealership's and automaker's warranties.
If you lease your car, OEM parts won't break your contract or decrease the book's value. Aftermarket parts may cost you some or all of your security deposit.
For collision repairs, OEM parts nearly always have a leg up. Aftermarket parts will not fit perfectly and may have unidentical crumple zones. OEM parts can offer better crash safety.
Along with these benefits, OEM parts have a couple of drawbacks:
They nearly always cost more and so do the repairs. As such, your insurance carrier may push back on a claim, telling the auto body shop to do the job with aftermarket parts.
Limited availability. If you're someone who tinkers around with your own car, you won't find OEM parts at your local auto parts store.
Variables of Aftermarket Parts
Compared to aftermarket, OEM parts are fairly straightforward. Should you opt for aftermarket parts, you'll need to keep the following in mind:
Aftermarket parts are meant to fit a wider range of vehicles – not just a single make and model. While this helps lower the price, the fit is only an approximation.
Aftermarket parts don't always void a car's warranty – assuming it's a direct replacement.
While the lower price seems attractive, many aftermarket parts are lower in quality and performance compared to their OEM counterparts.
A typical aftermarket part is reverse-engineered to replicate an automaker's part. In the process, the final product may improve upon the original – or could use second-rate materials to mimic the design.
You'll have to do your research to find a decent-quality aftermarket part. As such, the auto novice tends to be at a disadvantage.
While OEM parts may be covered by the dealership's and automaker's warranties, some aftermarket parts have no warranty – not even from their own manufacturer.
Many insurance carriers push auto body shops to use aftermarket parts for these reasons. To know what you're getting, review your policy or check with your agent. Your policy may exclude OEM parts, but your carrier may agree to OEM parts if you will foot the higher repair bill.
Depend on DaSilva's Auto Body for repairs using OEM parts. To learn more or make an appointment, contact our Naugatuck location today!