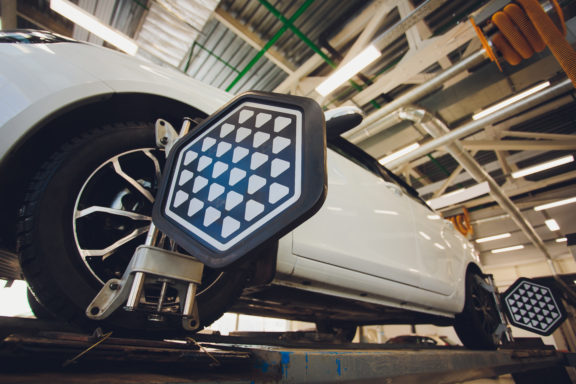 Many drivers have brought their vehicles to a shop for repairs, only to deal with another issue not long after. For auto body shops, manual and visual analysis only go so far – especially with the computer technology in modern-day vehicles. For more comprehensive analysis, laser measuring systems help auto body shops identify hidden damage and assist with restoring vehicles to their original equipment (OEM) specifications.
---
How Laser Measuring Works
To start, your vehicle is raised and multiple targets are placed on the underside. For analysis, a laser scans the area and uses 3D measuring technology to examine height, width and length distortions in relation to the manufacturer's specifications. These figures appear on a computer monitor and get saved to the system. Color coding – red for severe, yellow for moderate and green for acceptable – identifies the degree of damage and work needed.
The computer monitor offers multiple views to really see the damaged areas. After the first scan, customers and insurance carriers receive this documentation. In-house, our team uses this data to make accurate, comprehensive repairs and eliminate the guesswork of decades past.
While quick, efficient and accurate, the laser scanner does more than pinpoint damage and streamline repairs. Before we return your car, we scan it again to ensure:
Everything has been fixed
There are no outstanding issues
Vehicle meets the manufacturer's original specifications for alignment and collision strength
Laser scans take far less time – about 15 minutes on average – so we can get you back on the road sooner and have quicker, more accurate correspondence with your insurance carrier.
The Benefits of Laser Measuring Technology
Beyond convenience and accuracy, this new technology:
Lets us restore your vehicle to its pre-collision specifications. This OEM-recommended repair procedure ensures that energy traveling through your vehicle during any future collisions follows the manufacturer's original intended path. While vehicles have greater tolerance these days, that path travels deeper and could disrupt its many systems and parts.
Helps us know all issues have been fixed. In short, you won't return a couple days later about the same noise or an unexplained breakdown.
Goes beyond superficial issues. Far beyond what the eye can see, laser measuring identifies structural and secondary inertial damage down to the millimeter. Our staff can also put together more accurate estimates and expected completion times.
Lets us clearly document all measurements. Before and after figures are reported for future reference, indicating numerically what was fixed and by how much.
Whether it's time for regularly scheduled maintenance or you recently got into an accident, bring your car to DaSilva's for thorough and efficient laser analysis. Contact us to make an appointment!